Yapı Kredi and Avis Fleet Collaborate to Offer Discounts for Long-Term Rentals!
Meet your vehicle needs with the expertise Avis Fleet has to offer, make your payments with the Direct Debiting System (DDS) and enjoy a discount of up to 10%.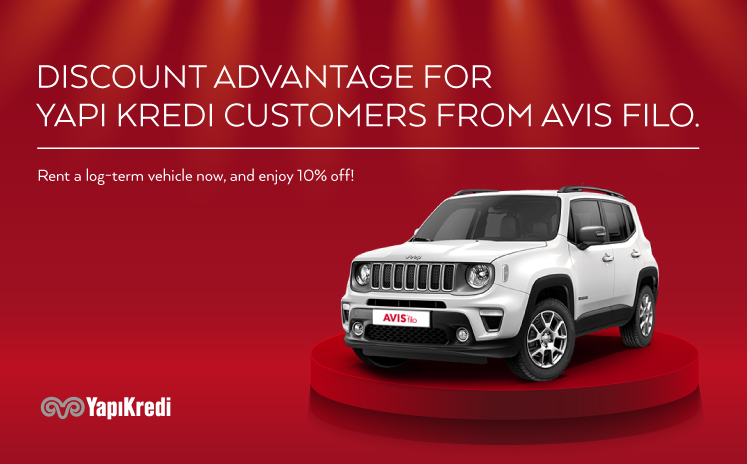 Application Process
To get a Quote from Avis Fleet, you have to fill out the application form by clicking here.
In the form, you have to type the code YKBUZUN10 in the "Additional Notes" field.
You may visit the branch where you have an account to apply for the Yapı Kredi Direct Debiting System.
Terms of the Campaign
Depending on stocks and availability, Yapı Kredi's legal customers will be offered a discount of up to 10% on long-term rentals covering a rental period of 12 to 36 months.
Payments will be made through the DDS account that you will open on behalf of Otokoç at Yapı Kredi. Otokoç's Finance Department will determine the rent coefficient of the relevant DDS account based on your financial data.
Customers whose line of credit is approved by Yapı Kredi will have access to the products, however, the terms of use may vary depending on the line of credit or market conditions.
The campaign will be valid until 31.12.2022.
Otokoç Otomotiv San. Trade A.Ş reserves the right to change the vehicle model and rental prices and the right to rent out.
For the proposal to be turned into a project, your company's financial information should be assessed to be suitable.
Vehicle prices are valid for 3 days from the offer date and the vehicles are limited to stock on hand.
No quote submitted means a commitment to renting a vehicle out to the recipient of the quote and Avis has the sole authority to make this decision.
Avis submits a quote based the current price and economic conditions, and reserves the right to revise the quote in case of any change in the economy or costs.
If the quote is accepted, the rental terms will be determined with a contract to be signed between the parties.
The quote includes Damage Insurance (Automobile Insurance), AVIS Replacement Vehicle Support, All Periodic Maintenance, Annual Tax Disc (MTV - Motor Vehicles Tax) Fees, Compulsory Traffic Insurance Costs and Theft Insurance. Otokoç Otomotiv San. Tic. A.Ş. shall bear the cost of a set of new tires every 50,000 km.
Otokoç Otomotiv San. Tic. A.Ş. shall bear the costs for all your damages for which you submit a damage assessment report or official police/gendarme report as per the Damage Insurance (Automobile Insurance) The offer includes the mini-damage waiver (minor damage repair upon the driver's statement).
Vehicles are delivered in the provinces agreed on with Avis, and can be returned in the same provinces.
My Offers
My Offers
({{ basketProductCount }} Count)
{{ item.Title }}
{{ item.Description }}